Thera-Paw UK provides custom Carpal and Tarsal Supports and Thera-Paw boot custom modifications for clients in the UK. We have been trained by Thera-Paw USA and our association with them is unique in UK and Europe.
These supports are designed and handmade specifically for an individual pet's limb. The Vet or Physiotherapist completes our Custom order form with detailed measurements and specific requirements for their client.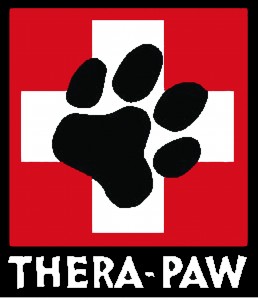 You must be a Vet or a Therapist to order these products.
The supports can be made to provide from the lightest support to immobilisation of the carpal or tarsal joint. The product is provided with full instructions on how to apply and care for the product and of any on site adaptations (such as small changes in level of support) that can be made by  the Vet or Physiotherapist on fitting the custom product to the pet.
The types of issues a Custom Carpal wrap can address include:
Thoracic limb Plantigrade stance
Carpal hyperextension
Carpal varus or valgus deformity
Carpal flexion deformity
The types of issues Custom Tarsal wrap can address include:
Tarsal Plantigrade stance
Tarsal hyperextention
assist tarsal flexion
assist tarsal hyperextension
tarsal medial or lateral instability
Please select the following pages for more information.
For a custom order form please email Therapaw-UK@ClassicPhysiotherapy.co.uk or call 01865 240122 to discuss your requirements.