Custom Carpal supports, splints and braces
Thera-Paw UK provides custom Carpal Supports, Splints and Braces for pets in the UK and Europe. 
We have been personally trained by Thera-Paw USA and our association with them is unique in UK and Europe. You must be a vet or physiotherapist to order custom support.
(Please print, fill in and scan the form OR email me for a form that you can fill in on the computer) 
 CP Custom Carpal Support Order Form 2021.  Online form for Custom Carpal Support 2021
USES
Customized for a variety of carpal conditions, such as:
hyperextension

valgus or varus deformities

collateral ligament injuries

soft tissue/flexion contractures

polytharthritis (e.g., IMPA)

instabilities, sprains, strains

fractures or post-cast removal

protection/support of limb with osteosarcoma

arthritis, DJD

sporting/working dog support
PRODUCT DETAILS
Custom Carpal Supports are designed for the pet's specific needs.  These braces can be lightweight and flexible or completely immobilizing.  Braces are versatile and stability can be decreased/increased depending on the pet's needs. Prices from £120 to £220. Print, fill in, scan and email measurement and quote form CP Custom Carpal Support Order Form 2021 . Online form of Custom Carpal Support 2021
Please note that none of the client information you place on the referral form will be used for marketing purposes nor shared to any other person or organisation.
Fabrication style and materials are chosen based on the pet's specific needs.  Options include:
Outer shell – neoprene breathable mesh different supportive thicknesses

Outer straps – elastic, nylon, neoprene or a combination thereof

Inner padding – therapy foam padding, sheepskin, neoprene (suitable for water therapy)

Outer stabilizing components – nylon support straps (adjustable),  thermoplastic sheets, thermoplastic stays
We will work with you to help decide what best suits the animals needs. We provide a custom measurement, quote and order form.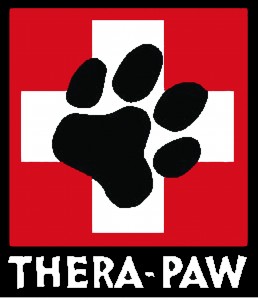 Photos above – Carpal plantigrade then with Thera-Paw Carpal supports –  digitigrade
You must be a veterinary professional or professional therapist to Order a custom support. The professional MUST do the measurements of the animal and select the options that the animal requires.
Download, print, and complete the form then scan and email to TheraPaw-UK@ClassicPhysiotherapy.co.uk CP Custom Carpal Support Order Form 2021  OR Online form of Custom Carpal Support 2021 Or email me for a form you can fill in directly on the computer. Please email the order form back to us fully filled in for your patient. Within 2 business days you will receive an email indicating cost of the custom product. Upon receipt of payment the product will be designed and made within 5 working days and dispatched.
Payment is in advance by bank transfer or cleared cheque prior to the product being made. There are no refunds on Custom made products.
For Tips and Recommendations about tarsal supports and splints please see notes on right hand side of this page……..>
Carpal tendon
photos above – chronic carpal flexor tendon shortening – comfortable and functional with carpal support
Carpal Varus
photos above – carpal varus – comfortable and functional with carpal support
Forelimb Amputee
photos above – forelimb amputee – supported and functional with carpal support